Karel Havlíček and Stro.MY Ensemble
One of the musical highlights of the Electric Universe night will undoubtedly be the performance of Karel Havlíček with a symphony orchestra specially assembled for this event by the chief and conductor of the Stro.My Ensemble. The ensemble, which forms the core of the orchestra, will expand to include thirty musicians. Karel had his first collaboration with the Stro.My Ensemble in October of last year at the auditorium of the Prague Faculty of Law, where they presented his latest album, "Spoken." Now, we can look forward to a completely new experience, thanks to the electronic part of Karel's performance, accompanied by the symphony orchestra.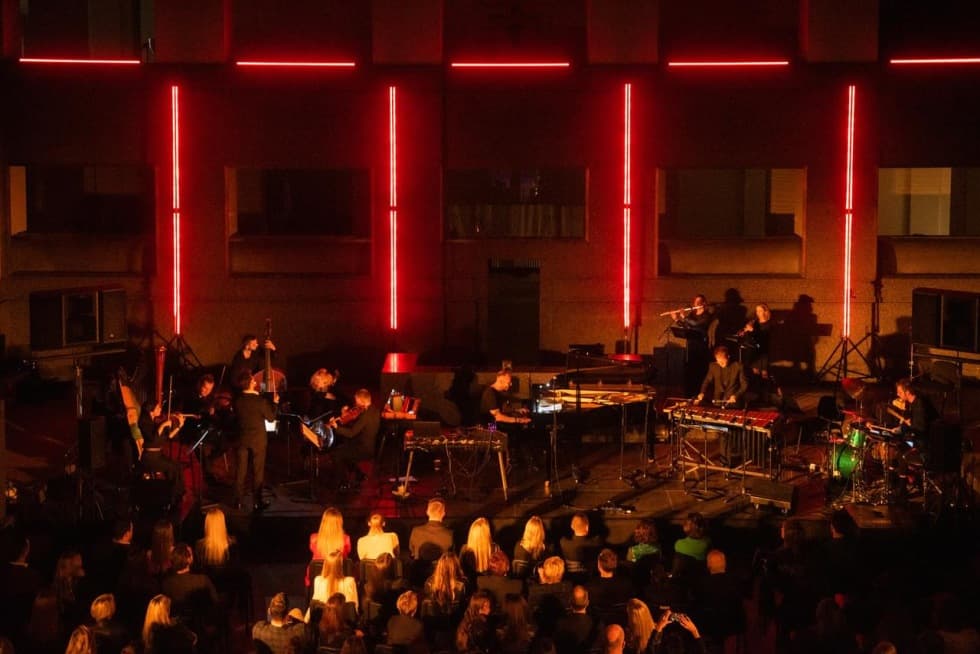 Karel Havlíček is a successful music composer and producer with an extensive portfolio that includes original music for films, TV series, commercials, and musicals. His compositions have been featured in the American film "Lion Ark," the successful horror film "Ghoul" by Petr Jákl Jr., as well as the series "Terapie" and "Mamon," which are original productions of HBO Europe. Before becoming a freelance musician, lyricist, and producer, Karel played and composed music for the band Southpaw. After many years in Los Angeles, he currently operates from his Kabelovna Studios in Prague. With his extensive experience in sound and music composition, he quickly became one of the most sought-after music composers in Europe and the USA.
His debut album, "Spoken," is a personal expression of his life experiences and masterful piano and instrument playing. Karel Havlíček is known for his innovative creation and progressive approach to music, earning recognition from critics and listeners worldwide. His versatility promises a perfect experience not only within the classical part but also during the electronic set, both accompanied by the symphony orchestra Stro.My Ensemble.
Stro.My Ensemble is a musical ensemble based on an innovative approach to music and captivating live performances that often incorporate visual and performative elements. Under the leadership of conductor and chief of the ensemble Jiří Trtík, the ensemble focuses on experimental music, blending various genres and musical styles. Stro.My Ensemble regularly performs on festival stages and is recognized both domestically and internationally as an innovative force in the field of experimental music. The collaboration with Karel Havlíček began with a successful concert at the Faculty of Law auditorium in 2022, and now they will present themselves in the O2 universum in a significantly larger formation as a full-fledged symphony orchestra.